Personeel inzetten voor jouw organisatie gaat niet zonder het opstellen van een arbeidscontract. In het arbeidscontract staan namelijk de formele afspraken tussen jou als werkgever en je (nieuwe) arbeidskracht. Je komt in het contract een salaris overeen, het te werken aantal uren en eventuele secundaire voorwaarden, zoals een auto en een telefoon van de zaak.
Ieder arbeidscontract bestaat uit een aantal vaste onderdelen:
Algemene gegevens: denk aan naam en woonplaats van de werknemer, ingangsdatum van het contract, duur van de overeenkomst, etc.
Primaire arbeidsvoorwaarden: denk aan het aantal uren, salaris, vakantiedagen, eventuele toeslagen, etc.
Secundaire arbeidsvoorwaarden: extra afspraken buiten de standaard voorwaarden, denk aan een laptop, auto of fiets van de zaak, bonusregeling of pensioen.
In sommige branches worden er ook optionele voorwaarden meegenomen in het contract. Denk hierbij aan concurrentiebeding en/of geheimhoudingsplicht.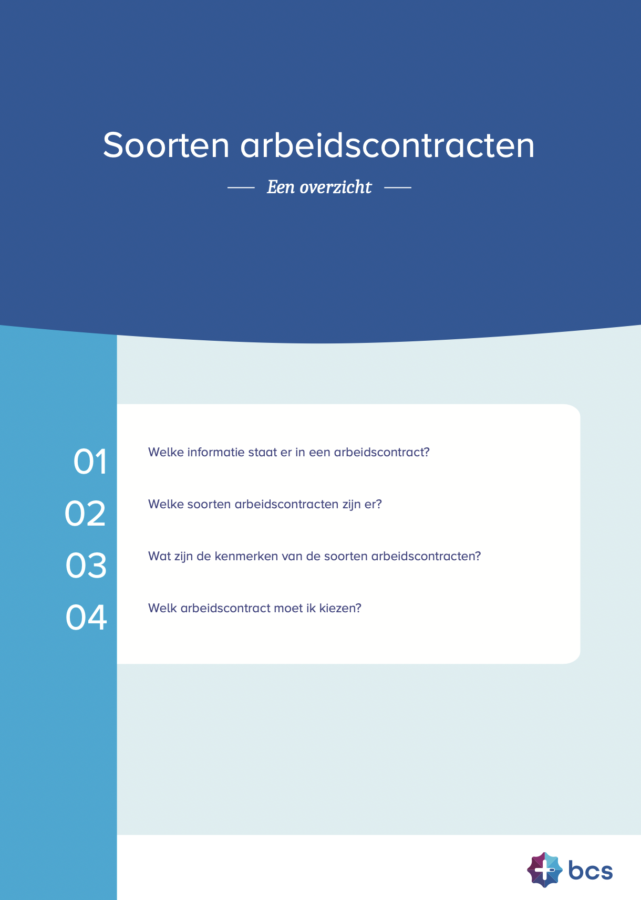 Verschillende typen arbeidscontracten
Elke situatie is anders, daarom zijn er verschillende typen arbeidscontracten die een bedrijf kan hanteren:
Vast contract
Tijdelijk contract
Flexibele contracten
Oproepcontracten
Deze verschillende typen zijn vervolgens ook weer onder te verdelen in subtypen. In het whitepaper lichten we alle typen en subtypen toe en helpen we je bij het maken van een keuze voor het juiste contract.
Download hier het whitepaper