Sickness records simplified with absenteeism software
An online absenteeism policy with BCS absenteeism software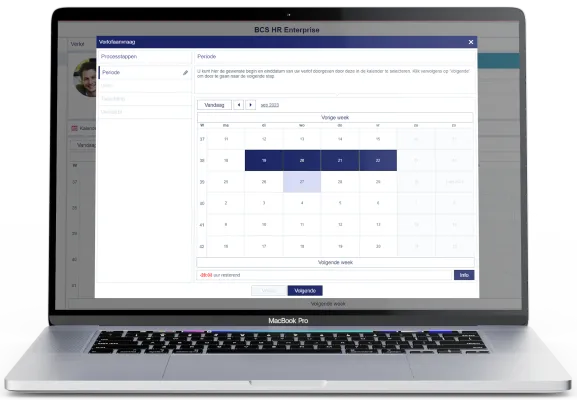 Manage data on absenteeism and recovery reports.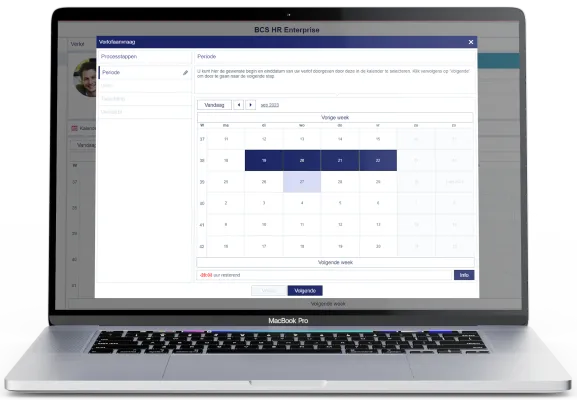 A good absenteeism policy is aimed at reducing the duration and frequency of sick leave and to actively support employees in a sustainable return to the organisation.
In order to properly support employees, it is important to record the correct information in an absenteeism file per employee and to draw up an absenteeism protocol in accordance with the Eligibility for Permanent Incapacity Benefit Restrictions Act (Wet Verbetering Poortwachter). With our absence software for absence registration you can quickly and easily consult all the necessary information.

The right information for a good absenteeism policy
You can record and keep track of all data regarding employees' sick leave in our absenteeism software. Sickness and recovery reports are easily entered, you can keep track of a relevant employee's sick leave and export various reports. The specified days of sick leave are also automatically converted to entries for payroll processing. This leaves more time for what really matters: the recovery of your employee.

Sickness reports
Employees can easily enter sickness and recovery reports through the online web portal or in the app.

Automatic salary changes
Specified sick days can be automatically converted to entires for payroll processing.

Standard reports
Sickness and recovery reports are printed or emailed according to standard templates for the Occupational Health and Safety Service.

Separation of medical data
Our absenteeism software can make a distinction between medical and non-medical data.

Absenteeism file per employee
You can keep a digital absenteeism file per employee in BCS. This way you can keep a detailed overview of absenteeism per employee.

Company doctor login
The company doctor, or another third party, can safely log in to the absenteeism software to contribute to an organised medical file.

Absence App
With the employee app, staff can easily register absence due to sickness and leave.

Wet Verbetering Poortwachter
Our BCS absenteeism software contains all functionalities for correct registration in accordance with the Eligibility for Permanent Incapacity Benefit Restrictions Act (Wet Verbetering Poortwachter).

Get a better picture
Of course you want to do everything you can to keep your employees healthy and sustainably employable. It is then important that you have a good picture of absenteeism within your organization, so that you can respond to this in a timely manner.
An employee's absenteeism file contains a lot of information and as an HR employee you want to be able to see immediately what is going on and what actions need to be taken within a few clicks. Our absenteeism software provides a clear file that can be shared with all stakeholders. Would you like to know more about this? Request a demo today!
Absenteeism software and HR integrations
As an HR employee, you do not want to spend unnecessary time entering data twice regarding employee absenteeism. That is why our absenteeism software is automatically linked to our HR and payroll software.
For example, sick days are converted into mutations and employees can report sick via the employee portal. This makes it a lot easier for you to be able to switch quickly with regard to the personnel file.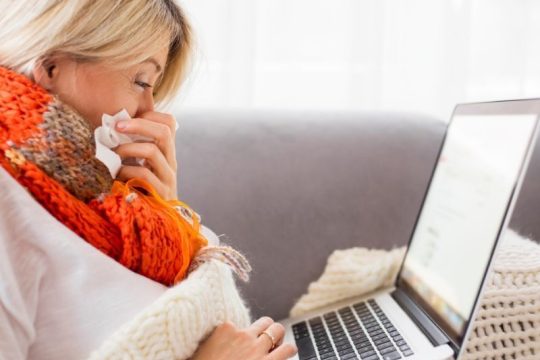 Our software
Clever software tailored to your HR policy
HR Essentials
With HR Essentials you can fully automate your payroll administration yourself. The payroll software also offers you the flexible option to add additional HRM modules, such as HR, absence due to sickness and time administration.
Choose from different modules
Automate manual operations
Create clear reports
HR Enterprise
Are you looking for a complete staff information system to automate current HR processes and payroll processing? The Polaris total solution gives you everything under one roof.
Automates and digitises all HR processes
Personalised HR workflow(s)
Fast and tailor-made implementation