Staff app: it's all in your hands
Allow employees to arrange HR matters themselves with the staff app
The BCS staff app is an extension of the employee web portal. With the app, employees can access their payslips, staff information, expense claims, sick reports and leave requests from anywhere on their mobile phone. With this app, you do the staff administration with your employees, instead of for your employees.

Always up to date with the staff app
Improve the employee experience and give employees 24/7 access to the status of requests, staff information or the ability to start a new request. The most simple HR matters are arranged by the staff themselves. We call it HR self-service. This includes reporting sick, submitting an expense claim or registering overtime. Any changes submitted by staff are passed on to the correct person (manager) who can check and approve the request. This is what we call an efficient HR process. The mobile staff app is available for iOS and Android operating systems.

Adjusting data
Employees can adjust personal data in the staff app, such as address details.
Applying for leave
Easily request time off for holidays online with the leave function in the staff app. The app gives you quick insight into your current accrued holidays.
Keeping track of timesheets
Employees can register hours worked, whenever and wherever they want, using the time attendance system.

Download payslips
The staff app ensures that employees receive a clear payslip digitally every month.
Submit expense claims
Easily submit expense claims and add receipts as attachments with your mobile camera.
Staff files
It is possible for managers to upload important staff documents and have them downloaded from the app, for example the staff handbook.
Calling in sick
When you are sick, you can easily register this in the staff app. When you feel better, reporting your recovery is also easy to do.

View contract
Always give employees online insight into their terms of employment and contract.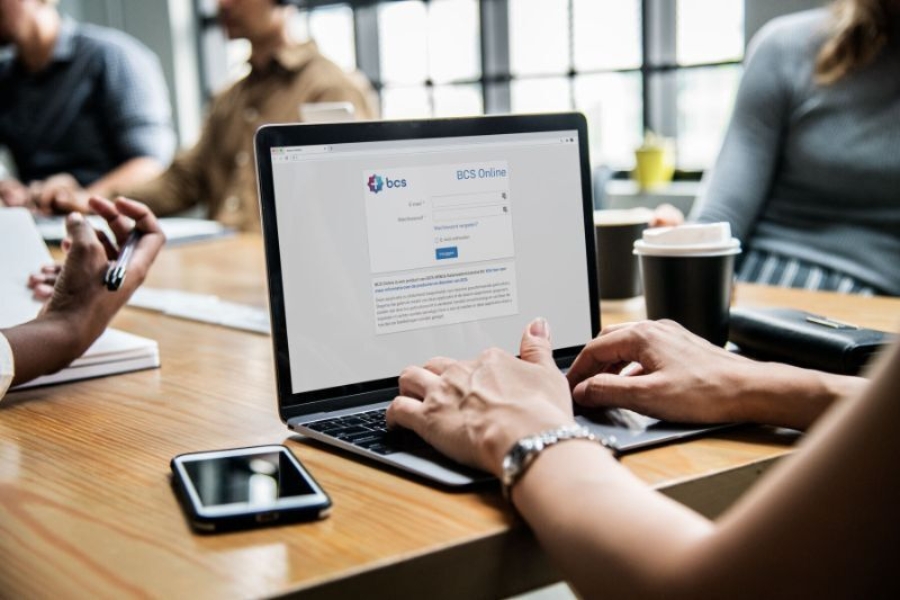 ESS & MSS

Changing staff data by employees themselves is referred to in HR management as Employee Self Service (ESS). ESS has many advantages and is available online always and everywhere for staff on the BCS web portal and the staff app. All online changes are immediately synchronised. This prevents errors in staff administration.
With Manager Self Service (MSS), the HR department always has control over the requests or data that are changed because they are not implemented until after approval. ESS & MSS reduces the energy you invest as an organisation in arranging leave, for example, and gives you time to focus on what is really important: your staff.

Our software
Clever software tailored to your HR policy
Our plus software
Take advantage of 40+ years of experience
Payroll administration completely outsourced
Complete HRM software incl. payroll outsourcing
With BCS's entry-level Service, our payroll administrators take care of your entire payroll. This allows you to focus on the most important processes and core business of your organization.